Security Window Film For Your San Jose Business
Window film is an incredibly powerful tool In San Jose and around for businesses looking to increase their bottom line. One niche film that is often overlooked for its money-saving benefits is security film. It is so effective in fact, that it is becoming the standard for windows on commercial properties for more reasons than just keeping people safe. This is because some security window films provide other benefits for business and commercial property owners besides security, which saves them money. Read on to see the unexpected benefits security window film could bring to you.
Reasons Why Businesses Should Install Security Window Film
Security Window Film For Protection From Theft
As implied by the name, security window film keeps your business safe. Although San Jose is a pretty safe city, crime happens all the time here. When/ if it happens to you at your business, it could bring financial ruin along with it. This is why having security film installed on your property's windows is important not only for protecting your assets both physical and intellectual but for the very success business. No window film or other product is guaranteed to stop an extremely motivated criminal from eventually getting through your glass window or door but security window film will definitely hold them back for an extended amount of time–giving authorities time to arrive. In many cases, the thief is looking for an easy score and will leave once they realize the glass won't immediately give way.
Security Window Film For Protection From Liability
Your business property is a liability in many ways. In the case of an injury to employees or customer–you could be sued. Many property injury claims are due to glass windows. Litigation occurs when someone gets hurt by shattered glass in your office or store that could have been avoided by safety glass. This type of risk puts your financial future as a company in peril and ultimately, could end up destroying your business. However, with the relatively low-cost addition of safety film in lieu of tempered glass, in the event of an accidental fall or strike to a glass window, it is likely no one will get hurt.
Security Window Film For Protection From UV Rays
Happily, some security window films also block UV rays properties in addition to cutting-edge security features. Not only will this keep your employees and tenants safe from the harm associated with too much UV exposure, but your furnishings, merchandise and you too reap the rewards. In fact, the National Cancer Society endorses UV protecting window film as part of an overall cancer-prevention health regime, so this type of preventative measure is a very good idea.
Check out the video below to see more on the power of security window film for your San Jose business!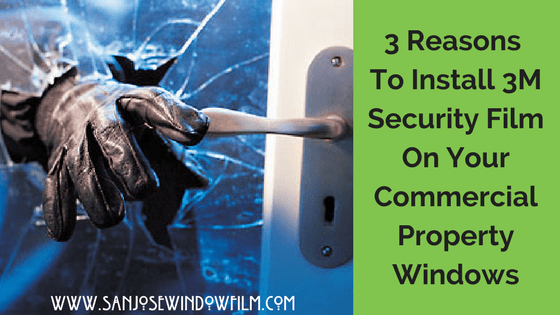 For more information on all the benefits security film for your business has to offer, contact us, at San Jose Commercial Window Tinting today!